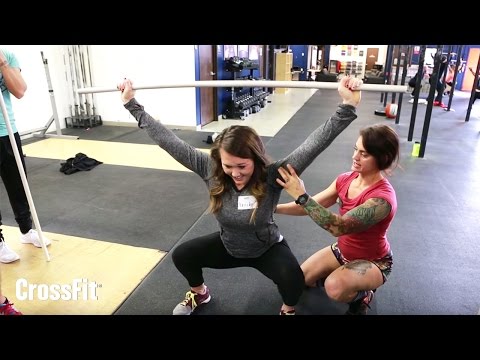 An overhead squat mobilization you can try before today's high volume of overhead squats.
Strength/Barbell Cycling
AHAP:
9 Deadlifts
6 Hang power cleans
3 Push jerks
This works like any other complex we do. Without letting go of the bar, go as heavy as you can for 9 deadlifts, 6 hang power cleans, and 3 push jerks. You are allowed to switch from a mixed grip to a normal grip when transitioning from the deadlifts to the cleans.
Workout of the Day
30-25-20
Toes-to-bar
Overhead squats (115/83)
Every time you break a set, perform a 5 burpee penalty.  You may scale this to "no penalty" if you want to do all of the reps but also don't want the majority of your workout being taken up by burpees.
Post your scores to the Whiteboard.